Industry News
Appraisal Institute Unveils New Educational Offering For Reviewers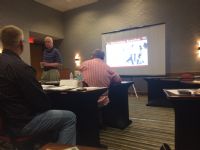 TAMPA - Vincent Dowling, MAI, of West Chester, PA, opened last weeks "Review Theory" course in Tampa with a flurry of questions designed to stimulate appraisers to really think about the review process and its implications for the valuation industry. "This instructor is certainly going to keep us on our toes this week", said Mike Rogers, course student, and former member of the Florida Appraisal Board.
While Dowling's version of the Socratic method may have surprised those of us accustomed to more conventional continuing education, it served to spur a livelihood of learning that has long been absent in Florida's professional valuation classrooms. In an educational market largely dominated by for-profit proprietary firms, continuing education can sometimes be fraught with irrelevance and dullness. Not so with this new course offering by the Appraisal Institute, which brings clear substance and meaning to certain vague concepts in USPAP Standard 3.
This course sets forth a solid framework for developing the appraisal review in a 7-step process that aids the reviewer in focusing on the report and the work product under his or her scrutiny. Dowling beseeched the class repeatedly to: "Review the report, and not the person."
This Review Theory Course is being rolled out in conjunction with a new Appraisal Institute designation: "AI-GRS", denoting the "General Review Specialist". The requirements for the designation include not only coursework and exams, but also peer scrutiny of review experience. It is expected that the designation will aid in segregating those possessing the proficiency to conduct and report the review process competently.
The course was populated with MAI appraisers, reviewers for major Florida banks, the Florida Department of Environmental Protection, the Florida Department of Transportation, and other governmental agencies.
---
Archived Articles