Industry News
Alabama residential sales improve 2 percent in July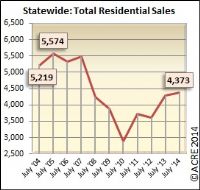 Alabama residential sales totaled 4,373 units in July, an increase in sales growth of 2.1 percent from the same period a year earlier and only 33 units shy of our monthly forecast. Nationally, sales were off 4.3 percent in June from the prior year.
The YTD Alabama sales forecast through July projected 27,605 closed transactions while the actual sales were 26,073 units, a 3.7 percent cumulative variance. YTD sales through July have been sluggish in most markets across the State but remain 1.9 percent above the 2013. July's performance falls in the plus column and follows a solid June which broke a strike of very sluggish months since the first of the year. Sales were up 2.3 percent in the second quarter compared to 2013.
Across Alabama, 48 percent of local markets reported positive sales growth compared to last July. It was 60 percent in June. This figure also remains at 48 percent when taking into account total YTD sales compared to 2013.
Pricing: Thus far in 2014, the lead story relates to pricing. The Center shared in earlier reports that pricing represents the primary indicator that still has the greatest upside in the future. At least through July, this has come to fruition as prices are up in 15 of 25 or 60 percent of local markets. While this is good news for the market, as prices increase, sales (the typical lead story) attributable to investor bargain hunting will diminish the ability of this "buyer profile" to push the sales growth needle in the future. Distressed sales continue to significantly diminish as a percentage of total sales across the US, a trend most market watchers content will continue in the future.
The median sales price improved by approximately 3.8 percent over last July and 5.4 percent when comparing the mid-year (Jan-July) average for a broader perspective. Still, Alabama remains below the nation's recent pace of appreciation but the Center prefers gradual increases in pricing over spikes seen in many parts of the country (typically in markets hardest hit by the recession). Keep in mind that pricing can fluctuate from month-to-month due to sampling size of data and seasonal buying patterns. The median price slipped 3.2 percent from the prior month. This direction is consistent with historical data (09-13) that reflects that the July sales price traditionally increase from the month of June by .2 percent.
Supply: The statewide housing inventory in July was 34,060 units, an increase of .4 percent from July 2013 but 17.4 percent below the month of July peak in 2010 (41,259 units). There was 7.8 months of housing supply (6 months considered equilibrium during month of July) in July 2014 versus 7.9 months of supply in July 2013, a 1.7 percent favorable reduction. July inventory increased by .8 percent from the prior month. This direction contrast with historical data that indicates July inventory on average (09-13) traditionally decreases from the month of June by .6 percent.
Demand: As anticipated, July statewide residential sales declined 1.6 percent from the prior month. This direction is consistent with seasonal trends & recent historical data that indicates July sales, on average (09-13), decrease from the month of June by 5.8 percent.
The fact that there are fewer distressed properties (attracting bargain hunting investors - typically cash buyers) changing hands when compared to last year has also had an impact on the narrowing favorable percentage changes associated with sales growth.
Seeking Balance: Eight or 32 percent of local markets are considered near or in balance where buyer and seller enjoy equal bargaining power. More markets are inching closer so this is encouraging news.
In contrast to reports of lack of inventory at the national level, Alabama still has above the needed levels of supply in most local markets (14 of 25 markets or 56 percent still have 10+ months of supply) but the supply of "quality" inventory is limiting sales according to local professionals with boots on the ground. Only 11 of 25 or 44 percent of local markets have single-digit months of housing supply so this is an area where more reduction would be welcome news. Last month this figure also stood at 44 percent. With that offered, metro markets representing 70 percent of statewide transactions, are edging closer and closer to equilibrium with 6.6 months of supply.
While July's report provides encouraging news, market participants would be wise to continue to monitor near-term progress as June/July data should not be construed as a definitive move away from the recent overall sluggishness of market during the first half of the year.
Industry Perspective: "Housing data point to a continued but modest rebound in the housing market, in line with our prior forecast," said Fannie Mae Chief Economist Doug Duncan. "Recent housing activity picked up seasonally as we expected, yet many indicators remain near or below the levels for the same period last year. For all of 2014, we continue to expect total home sales to decline about 2.0 percent and total mortgage originations to decline approximately 41.0 percent. We also expect total single-family mortgage debt outstanding to rise slightly this year before strengthening further in 2015."
---
Archived Articles